erry once in a while, a person comes in contact with another who is simply amazin'. here's a big one y'all....
Beyonce... nah // SASHA !
...it mite just be me but she's badder than usual now days. i guess Jay-Z upgraded her. lls. anywho her new album I Am...Sasha Fierce is wondeful. i'd like to give a couple of kudos. With songs like Ego, Like a Boy, and Roc [in her usual Beyonce ballad fashion] giving fans what they need; she also bangs out hits like Radio, Video Phone and Single Ladies to balance us out. i love the multiple personality thing on B. it fits well...not so much T.I. lls. [no diss KING]
and the
Million Dollar
question is...
O! and i'm guessin Jay-Z liked it....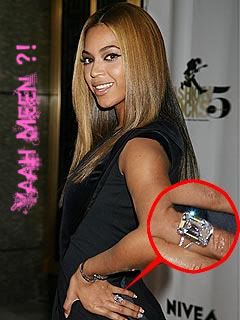 He damn sho' put a ring on it!
this JUST the ENGAGEMENT.